Cutting the Tiles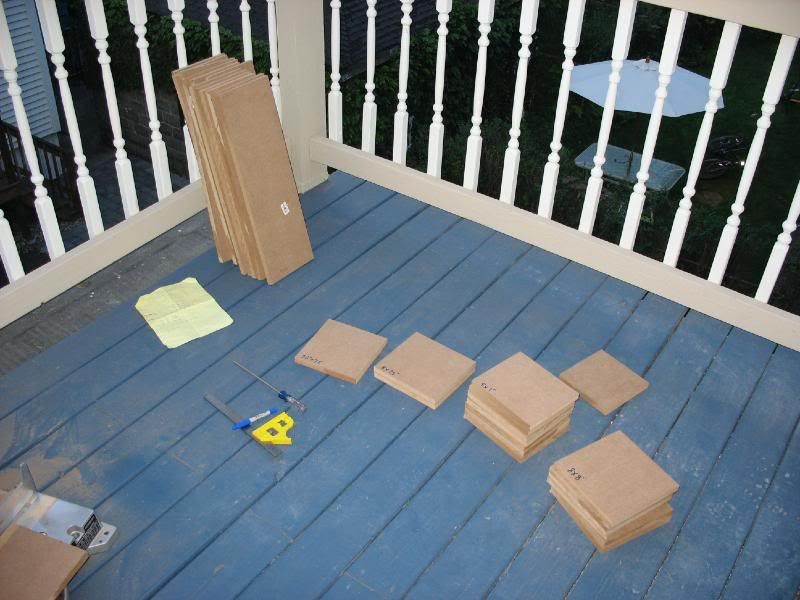 I calculated that in order for the Rubik's cube to maintain scale it needed a 1/2" round-over, however I couldn't accurately cut this on 1/2" MDF. This was when my design partially changed - all tiles needed to be 3/4" MDF in order to accomidate the round-over.
Because the .75" MDF adds an additional .5" to the outer dimensions, the shell needs to be increased in size - otherwise when put end to end the tiles will hang off one side by .5" MDF. Here's the calculation:
20.75" starting surface + 2(.75") MDF tile thickness = 22.25"
22.25" / 3 Rubik's squares = 7.41667" wide
Since I can't accuarately cut that the larger easier 7.5" dimension is used:
7.5" x 3 = 22.5" - 22.25" = .25" =
1/8" increase on all sides.
Where as adding sheets to the Y/Z/X axis would be the easiest solution, I unfortunately can't obtain 1/8" board!! The other flaw with this method is that it leaves no gap between the squares on each surface - inaccurate to scale.
*PLAN B*
Instead of adding 1/4" to all sides, I instead added 1/4" to each side. This increases the dimensions of the box to
21.25" all around.
7.5" x 3 = 22.5" for the outer dimensions of the bare tiles and (20.75" + 2(.75) + 2(.25)) for the total dimensions leaves .25" for two gaps, or
1/8" gap between all tiles
on all sides, fitting the scale.
Problem Solved.
53 Cut tiles
Plus 20 extras...